The History of Epsilon Chi Nu
AKA
The East Coast Natives
---
General History
Epsilon Chi Nu was established in the January 1, 1996 as a fraternity with Native American predominance. The founding fathers, Matthew Chavis and Quinn Lowry, wished to create a brotherhood amongst Native American males. Their intentions for the fraternity were to teach and share in Native American culture and share in one another's heritage. The founding fathers then choose Brian Richardson as the Faculty Advisor and Joseph Crutchfield as the Community Advisor and Elder Chief. The founding fathers then choose four others who would become the Founding Brothers. These four, in order of succession were Dayton Wilson, Eddie Harris, David Dial and Mark Edwards. Together the these six founded the Epsilon Chi Nu fraternity and have built it into the organization it is today.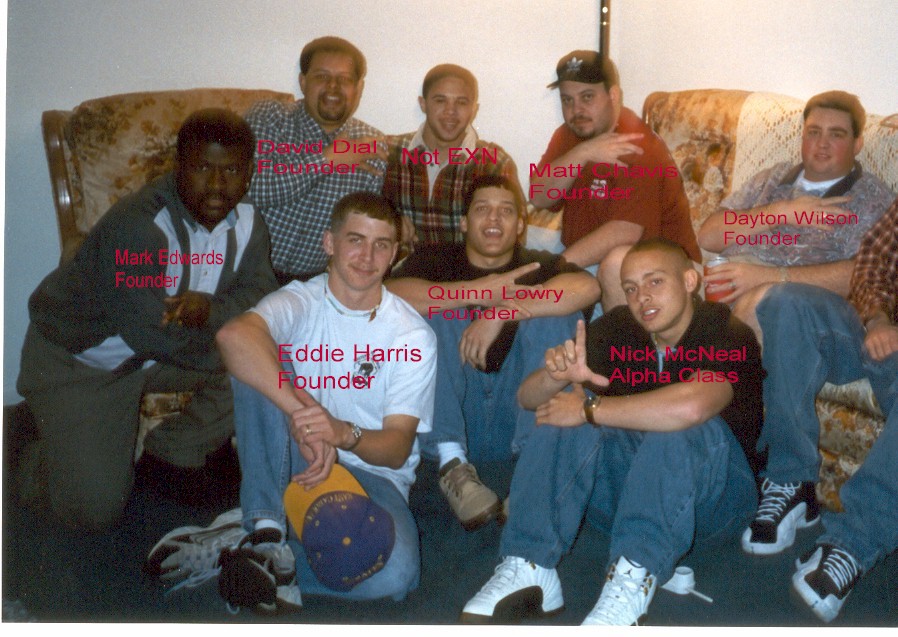 The Founding Fathers
Matthew Chavis, a member of the Lumbee tribe and Quinn Lowry a members of the Tuscarora nation, after founding Epsilon Chi Nu served as the fraternity's first President and Vice President respectively. Matthew Chavis, a native of Rowland, North Carolina attended East Carolina as a Graduate student when founded the fraternity. Quinn Lowry who graduated from East Carolina in the spring of 1999 is a native of Pembroke, North Carolina.
The Founding Brothers
The founding fathers choose four men to join them in the founding of the fraternity. These four, Dayton Wilson, Eddie Harris, David Dial and Mark Edwards served as the the other officers upon the founding of the fraternity. All of the founding brothers are now Alumni of Epsilon Chi Nu.



| | |
| --- | --- |
| Secretary | Eddie Harris |
| Treasurer | Dayton Wilson |
| Dean of Pledges/Parliamentarian | David Dial |
| Historian | Mark Edwards |
The Alpha Class
In the Fall of 1997 Epsilon Chi Nu pledged it's first class into the fraternity. The Alpha Class was made of five members who all became brothers. These five young men were Rudolph Oxendine, Nicholas McNeal, Jason Evans, Randy Gilland, and Eric Freeman. Rudy, Nick, Jason, and Randy all attended East Carolina University and Eric attended Pitt Community College.
---
If you have any questions or comments please feel free to email the webmaster